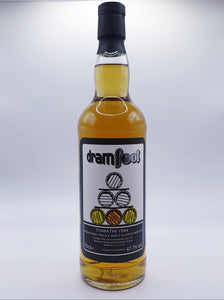 This is Dramfool's first ever vatting which is made up of two 1994 Tomatin Bourbon Hogsheads. With the initial intention to release two different single cask releases, Bruce has decided to vat the two distinct casks instead upon the advise of Jim McEwan... the results, well, you can look at Jim's tasting notes to get a better picture! 
Distillery: Tomatin, Scotland
Age: 26 years old
Strength: 47.7%abv
Only 251 bottles.
Cask Strength | Non-Chill Filtered | No Colouring Added
Tasting notes by Jim McEwan
Cask Type - Bourbon Hogshead - 47.7% Abv Colour - Clover Honey/ Harvest Gold
Aromas & Flavours - Opens on a delightful fruity overture of pear, melon & kiwi encapsulated in the sweetness of caramelised oak sugars with a hint of cinnamon & honey. Delightful, complex, multi-layered and super smooth. At this age you would expect the oak to dominate but that is not the case. The crispy sweetness of the barley in harmony with mellowness of the oak brings a beautiful balance of flavours and appealing aromas. You will also detect a gentle Heather in bloom & Riverbank flowers Primrose & Lily which brings a brilliant overture to the spiciness of aged bourbon oak tannins.
The taste is outstanding and that mellow oak toasted cereal soft fruit combination is super smooth & lingers long on the palate.
Tomatin is very much sought after by blenders, and now you know why. It's a beautiful Highland spirit, little hints of Heather & wild flowers do not allow the oak to dominate.
Its a Highland harmony in a glass