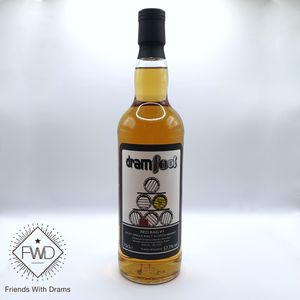 Dramfool is well known for putting anagrams names on their bottles for distilleries they cannot name.
So what could this RED BAG be I wonder? Something famous and peaty maybe?
Distillery: Red Bag? Scotland
Age: 16 years old
Strength: 57.7%abv
Only 260 bottles.
Cask Strength | Non-Chill Filtered | No Colouring Added
Tasting notes by Jim McEwan
Nose - It's classic South Islay. Lots of peat smoke, Heather in bloom, Atlantic overtures, warm sands, strong spirits and long finishes.

Palate - Mellow, spicy, phenol smokiness , the crisp sweetness of the barley sugars bring balance & a contrast of flavours on the palate.Throughout you will detect light fruity overtures and also some floral notes

Finish- Long lasting and satisfying, clearly of the Islay character.