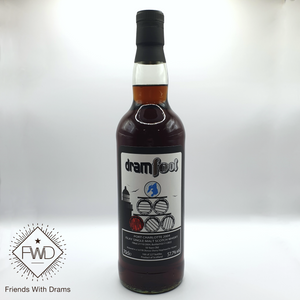 A Port Charlotte fully matured in a 1st Fill Oloroso Sherry Hogshead since 2004. Look at that colour!!
Distillery: Bruichladdich, Scotland
Age: 18 years old
Strength: 57.7%abv
Only 227 bottles
Cask Strength | Non-Chill Filtered | No Colouring Added
Jim McEwan Tasting Notes:
Aromas - It opens on a beautiful rare combination that can only be discovered from single cask bottling. This spirit is wonderful & rare, seldom found as most bottling are from many casks married together. The Sherry & smoke character from 18 years of maturing on the Island of Drams is incredible. I have seldom come across spirit like this and I am super proud to meet one of my children after 18 years, what a wonderful experience!

Palate - The aromas and flavour are of plump red grapes, nutty oak, peat toasted barley. Then as it opens it's Pandoras box of hand crafted whisky from a Distillery that lay abandoned for over a decade. The tart mellow oak sweetness from the Spanish cask is in complete contrast to the peaty Hebridean overture and it works. It's wonderfully smooth and it seems to glide over the palate. Underneath the fruity harmonious flavours include dark chocolate, raisins, prunes, hints of walnuts and nutmeg.
Matured on the edge of the Atlantic the Islay DNA flag flies proudly throughout this
beautiful handcrafted spirit.