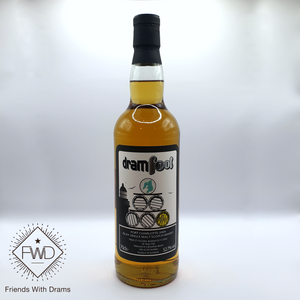 Dramfool is well known for its Port Charlotte releases. A classic bourbon Port Charlotte from 2004 awaits.
Distillery: Bruichladdich, Scotland
Age: 18 years old
Strength: 52.7%abv
Only 207 bottles
Cask Strength | Non-Chill Filtered | No Colouring Added
Jim McEwan Tasting Notes:
Aromas - Beautiful oak, peat & hints of Atlantic swells leading onto Coastal Flora & Fauna. It has a true Hebridean DNA that works beautifully with the spice from the Bourbon that first filled the cask. Little hints of Jupiter & Pine drift by on a classic Islay marine overture all held in the warmth of a peat fire.

Palate - The texture of the spirit is beautiful, viscous, mellow and brimming with all that
makes Islay malts so unique. Flavours of melon & pear emerge held beautifully by the oak & peat smoke, the crisp sweetness of the malt works well with the oak which delivers a beautiful spicy drift as the oak expands releasing gentle hints of bourbon spices. This spirit is at its very best. The finish is long and mellow, a true son of Islay!!