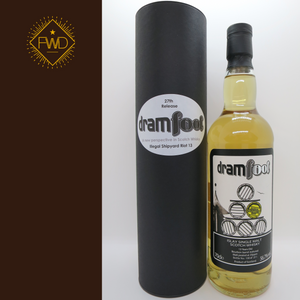 Let's get the obvious out of the way. Illegal Shipyard Riot = Laphroaig Distillery.
That's an anagram because Bruce (the founder and owner of Dramfool) is not allowed to state which distillery the whisky is from on the bottle. So he's adopted this really innovative approach!
Next up, is this good? We've left some tasting notes for you, courtesy of Bruce.
Age: 13 years old
Strength: 56.7%abv
Only 211 bottles, matured in a Bourbon Barrel
Cask Strength | Non-Chill Filtered | No Colouring Added
Tasting Notes
Nose neat: TCP, Elastoplast, Germolene, pencil sharpenings, peat smoke, smoked fish, a hint of polished leather, new car smell, burning heather twigs.
Taste neat: Initially sweet with a spicy pepperiness, fizzy with a briny saltiness, medicinal (Germolene again), kelp on the shore, charred wood, salty sea shells, peaty and savoury.
Nose diluted: The peat and smoke is vastly reduced, quite viney (tomato leaves), salty shoreline, charred sticks, creamy with a slight hint of Germolene, smoked haddock poached in milk.
Taste diluted: Sweeter, with Coal Tar soap, sherbet - but far less fizzy than when neat, burnt twigs, Germolene, Muscovado sugar, salty smoked haddock in a rich Cullen Skink.