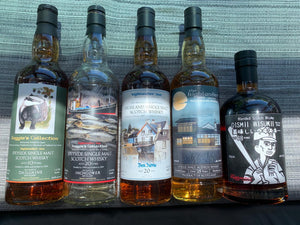 Following on from our sold-out tasting in May, Friends With Drams is pleased to present the "Highlander Inn Around the World" flight.

100% of the proceeds will go towards the recovery efforts of the Highlander Inn, even as they move cautiously ahead with opening to guests. The impact of COVID-19 on the bar and hospitality industry has been nothing short of devastating. Your support will go a long way to supporting the livelihoods of the employees.

The theme is Highlander Inn bottlings. Curated from a private collection, the flight comprises 5 drams (30ml each) of the following:

1. Maggie's Collection Highlander Inn Dailuaine 10Y (55.8%), exclusive to Japan
2. Maggie's Collection Highlander Inn Inchgower 20Y (57.6%), exclusive to Taiwan
3. Highlander Inn Craigellachie Ben Nevis 20Y (55.9%), 2017 annual bottling
4. Highlander Inn Chichibu Secret Speyside over 25Y (46.7%), 2020 annual bottling. From Macallan distillery, the "Rolls Royce" of single malts
5. Oishii Wisukii Blended Scotch Whisky 38Y (47.4%), exclusive to Taiwan

These bottles are extremely hard to find, and auction prices for them have shot up accordingly. This is a rare opportunity for you to try them all in one tasting.

As with the first session, Tatsuya Minagawa will be joining us all the way from Craigellachie.
The tasting will take place on 31 July, Friday, at 8pm (Singapore time). There are only 20 sets available at $159 (including delivery) so please act fast!