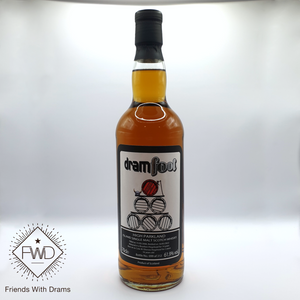 Another anagramed name, but this one pays tributes to the Vikings! Guess it yet?

Distillery: High Parkland?, Scotland

Age: 16 years old
Strength: 61.9%abv
Only 312 bottles.
Cask Strength | Non-Chill Filtered | No Colouring Added
Tasting notes by Jim McEwan
Nose - The smoky burnt Heather aroma gently wafts from the glass with a light Marine overture luring you into a sweet spiciness from the bourbon cask. It shows all the DNA of an Island; Sea breeze salinity and Heather in Bloom leading onto a drift of ripe fruit; Apple, pear and melon and it's a beautiful Island overture all encapsulated in a cradle of smouldering peat smoke.

Palate/ Finish - The combination of the peat smoke, the caramelised oak, succulent fruit, toasted cereal, peppery spice and the saline swell is absolutely magical. At this age the spirit and the oak are as one. The warmth of the peat embers totally seduces the taste buds. At this age it's on fire. The oak, the barley, the coastal marine overture are on the same hymn sheet. The Viking is showing its true character!