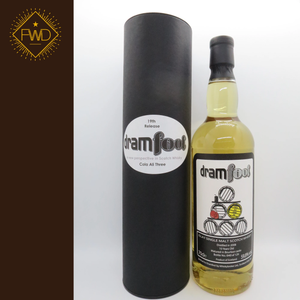 A bottle of Cola Ali Three, bottled by Scotch Independent Bottler Dramfool. As the name suggests, this is the third Caol Ila in a series released by Dramfool. Always a cracker of a dram!
Due to certain constraints, Bruce (the founder and owner of Dramfool) is not allowed to state which distillery the whisky is from on the bottle. Instead, Bruce has come up with innovative anagrams for such releases (hence Cola Ali, with the can of cola and boxing gloves on the label). 
Don't ask us which Cola Ali release is the best -- that's the surest way to start a fight because everybody's got a favourite. Find yours today!
Distillery: Caol Ila, Scotland
Age: 10 years old
Strength: 59.8%abv
Only 129 bottles, matured in an ex-bourbon cask.
Cask Strength | Non-Chill Filtered | No Colouring Added