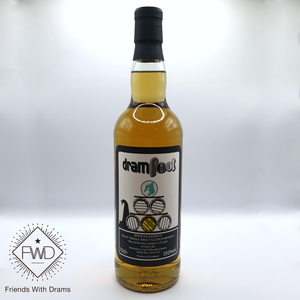 Dramfool's 55th (!) release is a another beautiful one. A Bruichladdich aged for 20 years in a 1st Fill Bourbon Barrel
Distillery: Bruichladdich, Scotland
Age: 20 years old
Strength: 59%abv
Only 222 bottles
Cask Strength | Non-Chill Filtered | No Colouring Added
Jim McEwan Tasting Notes:
Aromas - Classic Islay without the smoke which allows the barley/oak notes to shine and
highlights that brilliant Atlantic freshness. Hints of ripe Guava & melon work in harmony
with the crispness of the malt & the oak which brings that mellow soft sweetness. It's an
irresistible combination, almost like an Atlantic rainbow of aromatics in harmony with the Island & its unique location.

Taste - Wow!! Its so clean and flavourful. The texture is amazing giving the taste buds a
spiritual experience like no other. The sweetness of the malt sugars is held beautifully in a cradle of spicy oak from the Bourbon cask. The fruitiness is down to slow distillation and long fermentation, and the fresh vibrant mouthfeel due to its maturing on the Atlantic Coast. The main prize here goes to the Distillery team who truly understand the art of distillation..