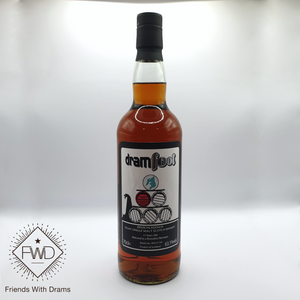 57 releases and counting. A Bruichladdich aged for 11 years in a Riversalted Barrique Cask. Prepare your palate!
Distillery: Bruichladdich, Scotland
Age: 11 years old
Strength: 63.1%abv
Only 149 bottles, matured in a Rivesaltes Barrique
Cask Strength | Non-Chill Filtered | No Colouring Added
Jim McEwan Tasting Notes:
Aromas - The bouquet is generous, opening on red fruits; cherries & plump red grapes
encapsulated in a halo of French oak which blends beautifully with the sweetness of the
malted barley. The Islay character creates a Hebridean overture with a marine freshness
matured on the edge of the Atlantic Ocean.

Taste - Add a drop of water and the sweetness of the malted barley in harmony with the
oak evolve beautifully bringing the Islay character and personality to remind you of the
spirits DNA, a true Islander distilled by a team of dedicated men to whom distilling is in their DNA. No computers, no E150, no chill filtration and no BS!! It's a warm generous spirit that truly reflects the personality of the Island and its Distilleries.