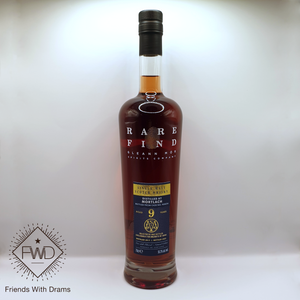 A rather unusual Mortlach bottling here. Milroy's worked with the Rare Find team to bring this Australian Shiraz cask release to life. It's a remarkable pairing bringing together the muscular meatiness of Mortlach with the decadent fruitiness of a Shiraz cask. Sipping it is quite the experience, and we're delighted to share our discovery with you. 
Distillery: Mortlach, Scotland
Age: 9 years old
Strength: 56.3%abv
Cask Strength | Non-Chill Filtered | No Colouring Added
TASTING NOTES:
Nose: Rich ripe red berries and cherry wood spice, along with ruby coca, hints of red velvet and dried raspberry.
Palate: Very rich on the front of the palate, with some cherry and passion fruit cheesecake. The fruit and spice mix on the mid palate grows nicely with ruby chocolate and warming yet creamy notes, and delicious orchard fruits throughout the dram.

Finish: With a small amount of spice and creamy whipped strawberry milkshake, the lingering rich aftertaste keeps going long after the last drop.